I recently enjoyed the privilege of a 9 night trip to northern Tanzania where I was hosted, together with 7 other agents and tour operators from all over the place, by Asilia Africa. Although we stayed predominantly at their wonderful camps dotted around to cover all the must-visit areas that form Tanzania's 'Northern Circuit', we also had the opportunity to do site visits at a bunch of other great camps and lodges in the areas that we visited.
This trip did everything necessary to remind me why this part of Tanzania should really be on every wildlife (and wilderness) enthusiast's bucket list. The diversity of everything that is available in this north-western part of Tanzania is magnificent, from the rainforests on the sides of the Ngorongoro Crater to the endless plains of the central Serengeti, the amazing numbers and variety of animal species present in all these areas (and we missed seeing the great migration herds by hours/days?!), the superb birdlife (250 species ticked on a non-birdwatching trip) and dare we forget the incredibly kind, giving and friendly people that we encountered at all the stops along the way from cleaners to camp managers.
The trip started with a night at Onsea House (adjoining, and sharing facilities with Machweo Wellness Retreat – under common ownership and management) just outside Arusha where most of us spent our first night. Although a night in Arusha is often obligatory due to the timing of incoming flights, many people view it as a nuisance that causes a delay before tasting the real thing, but the stay here gives travellers an opportunity to take a breath, ease into African time and to appreciate the unique rural setting of the areas around Arusha, where many of Arusha's favourite lodgings are situated. Comfortable lodgings, great food and the opportunity to absorb a bit of Tanzanian culture are all on offer here.
Spacious and luxurious rooms at Onsea House

After spending the night at Onsea House we met our Asilia driver guides the following morning. Kevin and Alfred were to be our guides, companions, chaperones, friends and drivers for the next six days, playing the important roles of knitting the group together, buffering us from the locals where required, offloading gigabytes of knowledge and getting us safely from A to Z. First stop with these guys and their kitted out, 'openable' topped, 4×4 safari land cruisers was to be Asilia's 'Oliver's Camp' in the southern part of Tarangire National Park after a couple of site visits on, or near, Lake Manyara en route. The first section of Tarangire, with the road winding along, or close to the Tarangire River, felt like a fenceless zoo with the sheer quantities of different varieties of animals. Birding in Tarangire and surrounds is probably the best available on the Northern circuit – something new and different in every bush!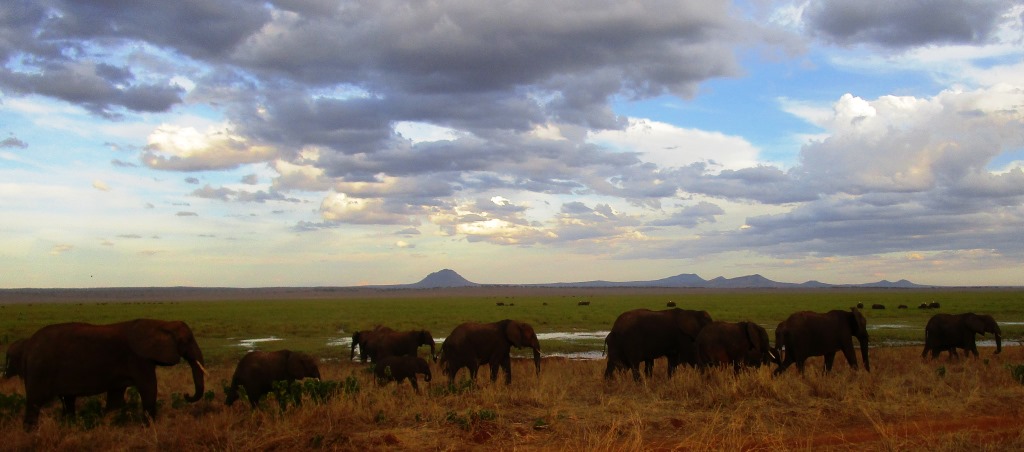 The massive, wildlife rich Silale Swamp in Tarangire National Park
Oliver's Camp is wonderful – situated as it is in the southern part of the park with not another vehicle in site during our two nights there.
Breakfast served on the viewing deck at Oliver's Camp
Day 4 saw us heading north-west, passing Lake Manyara again, climbing the rift escarpment and making our way via Ngorongoro's eastern crater rim to Asislia's "The Highlands" camp on the north-eastern slopes of the Olmoti Crater.
The Olmoti Crater with the Ngorongoro Crater on the horizon to the left
Although The Highlands is a little further away from the iconic Ngorongoro Crater than some of the other camps/lodges in the area it still provides convenient access, usually by way of a day trip, but also exposes guests to various other walking/hiking and cultural activities, providing them with scenes and experiences that most other visitors to the area would miss out on. Add to this the amazing dome shaped accommodation units and you're definitely going to want to consider this for your itinerary.
One of the new dome shaped luxury suites at The Highlands
We did the obligatory day trip into the Ngorongoro Crater, complete with a hot lunch served in a private setting against a rocky ridge and in the shade of a fever tree forest (Acacia Xanthophloea) and were not disappointed.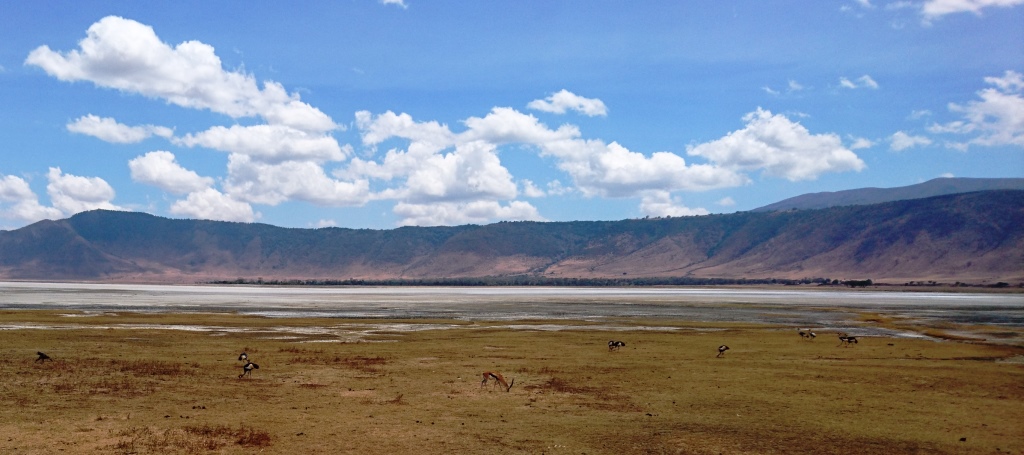 Grey-crowned Cranes and a Grant's Gazelle grazing in front of the almost dry Lake Magadi in the Ngorongoro Crater
On day 6 we continued in a north-westerly direction, crossing the Olduvai Gorge and into the short-grass plains of the southern Serengeti – our home that night was Asilia's 'Dunia Camp' nestled in amongst some acacia trees at the foot of a large ridge with lovely views east towards Moru Kopjes.

Two spotted Hyena at the local spa
The camp, with its almost completely female staff contingent, was a delight and we were all sad to pack the bags the next morning to resume our northward journey.
Charming Alfred (right) and birder extraordinaire Kevin with their trusty steeds behind
The time spent in the Serengeti was amazing from a scenic perspective – one moment all you can see around you is short grass stretching to the horizon in every direction, and maybe a distant kopje, and the next time you are conscious of something other than animals you are in amongst a pod of kopjes or a flock of bushes or a herd of trees that also seem to stretch into infinity. As you keep moving into new areas the whole feel of your environment keeps changing, except for the ever-present feeling of anticipation of your next prime animal sighting.

On day 7 we made our way into the central Serengeti and reached Asilia's 'Namiri Plains Camp' just after sunset after a group of four cheetah kept us from our sundowners. The collective pronoun for Cheetah is actually 'Coalition' but this mother and three cubs didn't seem like much of a coalition!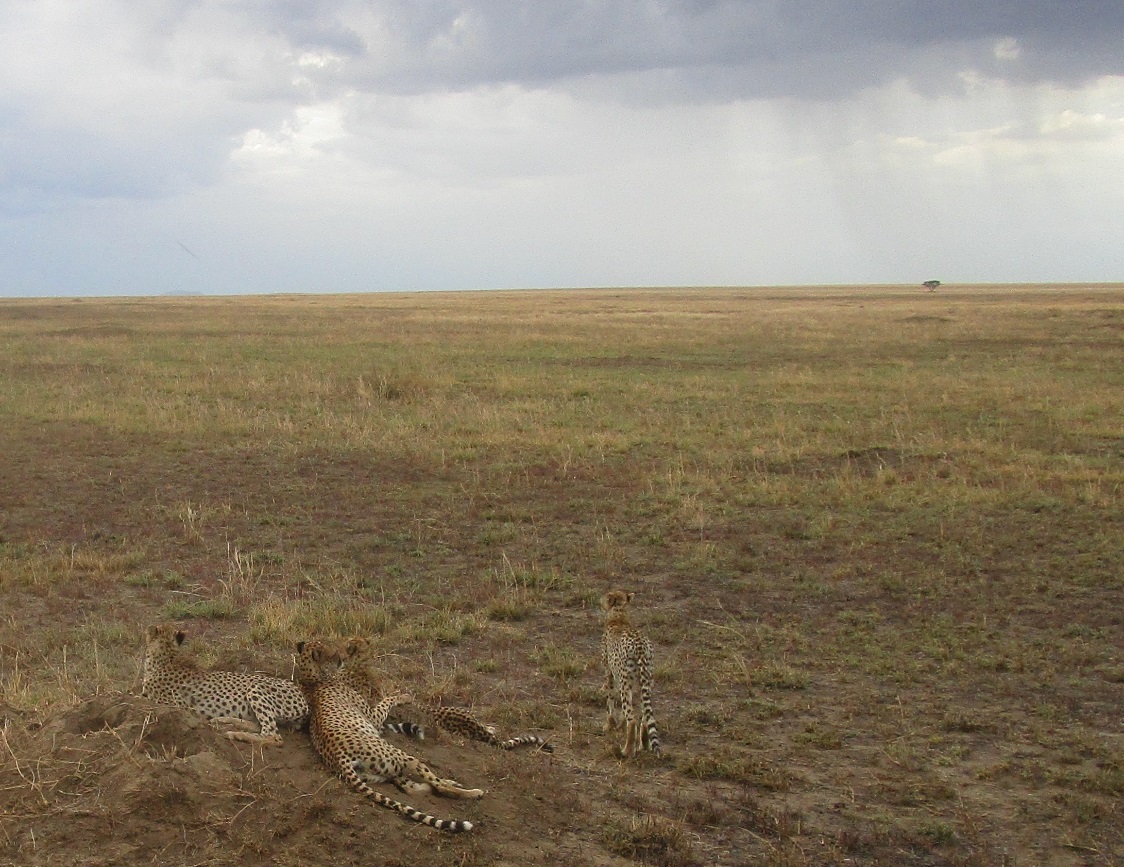 Namiri Plains has the same old Asilia feel that we were becoming accustomed to with space, charm and comfort but nothing too ostentatious.
Double outdoor showers with a view at Namiri Plains
Again though, time was of the essence and bags were packed at sunrise the next morning so that we could do our morning game drive west towards Seronera Airstrip near the park's headquarters, where we enjoyed another superb packed meal from Namiri Plains' kitchen, before watching our light aircraft land and then boarding it for our trip up to Kogatende Airstrip in the far north of the Serengeti.
Throughout our trip we were provided with many packed meals (breakfasts and lunches) that we took along with us and enjoyed at some or other ideal spot en route – all these meals had just enough familiarity about them to keep the unadventurous calm but there was also always something a little different so that 'same old same old' could never raise its ugly head.
And finally the great Mara River came into view on the horizon as we jetted our way north marvelling constantly at the changing landscapes below us. As we disembarked our flight we were shepherded to the Asilia gazebo providing some shade, comfortable seating and refreshments while we took care of a little Tanzanian red tape having entered a new area and requiring new daily permits.

Comings and goings at Kogatende airstrip of a morning……
This was followed by a short game drive to have a look at some of Asilia's mobile tented camps that are stationed in the area from July to October or early November for the Great Migration and the infamous river crossings. We went to see the remnants of Kimondo Camp as yet another lorry pulled out transporting this mobile camp back down south for the Great Migration calving season (from December to March) and we then made our way to inspect a still fully functional mobile camp, 'Olakira Camp', with its views of the Mara River and of some favourite river crossing spots, the guests of which were still enjoying occasional sightings of the dregs of the great herds heading south from the Masai Mara. Here we were hosted to a lip smacking lunch which was terminated a few minutes prematurely due to a combination of a breeding herd of elephant wanting to pass through the area where our tables had been set up and an approaching storm that seemed to be in rather a rush.View from lunch – the ellies doubled back at us about the same time that the storm came rolling in
View from lunch – the ellies doubled back at us about the same time that the storm came rolling in
After our high octane departure we geared down again and game-drove our way to our home for the next two night, Asilia's 'Sayari Camp', enticingly situated on a gentle slope within a sniff of the Mara River and recently refurbished.
Sayari is one of permanent camps in the area and beautifully positioned to take advantage of the excellent year-round game viewing in this part of the Serengeti.
We had the opportunity to go on a couple of game drives on our full day at Sayari and get a feeling for the amazing scenery and game-viewing in the area. We were also able to visit a couple of other non-Asilia camps in the area – if Sayari is fully booked for your dates, fear not, there is adequate back up! We almost missed our sundowner at Hippo Pool as a result of a last minute leopard sighting – high priority as we had not seen any other leopards up north.
Sundowners at Hippo Pool on the Mara River on our last night
 We had a relatively relaxed departure from Sayari on day 10, taking a leisurely but short game drive back to Kogatende Airstrip where our group was to board various light aircraft transfers for various destinations – some pushing on further north to Kenya, with a couple of tiresome transport change-overs en route, some to Zanzibar Island via Arusha Airport (shame!) and the sad few who headed to Kilimanjaro International Airport for their onward flights back home (of whom I was one).
A last look, from the aircraft, at Olduvai Gorge in the foreground with Ngorongoro